Buick Regal: Dual Automatic Climate Control System
The climate control buttons on the center stack and on the climate control display are used to adjust the heating, cooling, and ventilation.

Center Stack Climate Controls
Driver and Passenger Temperature Displays
Driver and Passenger Temperature Controls
Driver and Passenger Heated and Ventilated Seats (If Equipped)
Fan Controls
CLIMATE
MAX Defrost
Recirculation
Rear Window Defogger and Heated Outside Mirrors
ON/OFF (Power)
AUTO (Automatic Operation)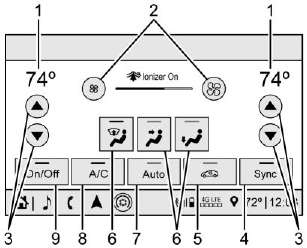 Climate Control Display
Outside Temperature Display
Fan Control
Driver and Passenger Temperature Controls
Sync (Synchronized Temperature)
Recirculation
Air Delivery Mode Control
Auto (Automatic Operation)
A/C (Air Conditioning)
On/Off (Power)
The fan, air delivery mode, air conditioning, driver and passenger temperatures, and Sync settings can be controlled by touching CLIMATE on the infotainment Home Page or the climate button in the climate control display application tray. A selection can then be made on the front climate control page displayed. See the infotainment manual.
READ NEXT: