Buick Regal: Selective Ride Control (GS Models Only)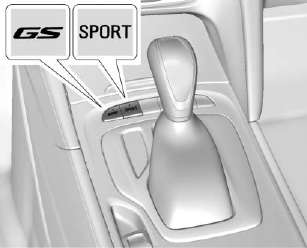 Selective Ride Control adapts to the preference of the driver with one of three driving modes: Normal, Sport, or GS.
The following electronic systems have been calibrated for each driving mode:
Continuous Damping Control (CDC)
Power Steering Assist
Automatic Transmission
All-Wheel Drive (AWD)
When the vehicle is started, Normal mode comes on automatically. Sport mode or GS mode can be selected by pressing and releasing SPORT or the GS. The light on the selected button will illuminate, indicating the driving mode. To return to Normal mode, press and release the illuminated button. When both button lights are off, the vehicle is in Normal mode. The driving mode can be changed at any time, whether the vehicle is stationary or moving.
Normal : This is the default mode used for normal city driving and long-distance highway driving. This setting provides a smooth, soft ride.
Shock absorbers are in the comfort setting.
Power steering assist is normal.
Sport : Use this mode when personal preference or road conditions demand more control.
This setting provides responsive, controlled steering and handling.
It also modifies the automatic transmission shift feel and the AWD torque distribution for sportier performance.
GS : Use this mode for additional control and responsiveness, and sportiest performance.
Shock absorbers stiffen to the firmest setting for increased control.
Power steering assist is reduced for sportier feel.
The automatic transmission shifts more aggressively for sportier feel and improved acceleration.*
The AWD system distributes more AWD engine torque to the rear axle.
* Performance Shifting is enabled in Sport mode and GS mode.
Performance Shifting detects spirited driving and adapts transmission shifts to maximize vehicle acceleration.
READ NEXT: