Buick Regal: Doing Your Own Service Work
Warning: It can be dangerous to work on your vehicle if you do not have the proper knowledge, service manual, tools, or parts. Always follow owner's manual procedures and consult the service manual for your vehicle before doing any service work.
If doing some of your own service work, use the proper service manual. It tells you much more about how to service the vehicle than this manual can. To order the proper service manual.
This vehicle has an airbag system.
Before attempting to do your own service work.
Keep a record with all parts receipts and list the mileage and the date of any service work performed.
Caution: Even small amounts of contamination can cause damage to vehicle systems. Do not allow contaminants to contact the fluids, reservoir caps, or dipsticks.
Hood
To open the hood:

1. Pull up on the hood release handle with this symbol on it.
It is inside the vehicle on the lower driver side of the instrument panel.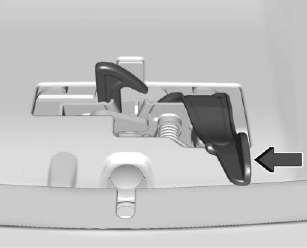 2. Go to the front of the vehicle to find the secondary hood release handle. The handle is under the front edge of the hood near the center. Push the handle to the right and at the same time raise the hood.
To close the hood:
1. Before closing the hood, be sure all the filler caps are on properly.
2. Lower the hood 30 cm (12 in) above the vehicle and release it so it fully latches. Check to make sure the hood is closed and repeat the process if necessary.
READ NEXT: