Buick Regal: Climate Controls
Dual Automatic Climate Control System
The climate control buttons on the center stack and on the climate control display are used to adjust the heating, cooling, and ventilation.
Center Stack Climate Controls
Driver and Passenger Temperature Displays
Driver and Passenger Temperature Controls
Driver and Passenger Heated and Ventilated Seats (If Equipped)
Fan Controls
CLIMATE
MAX Defrost
Recirculation
Rear Window Defogger and Heated Outside Mirrors
ON/OFF (Power)
AUTO (Automatic Operation)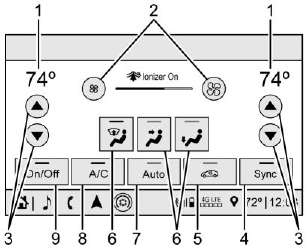 Climate Control Display
Outside Temperature Display
Fan Control
Driver and Passenger Temperature Controls
Sync (Synchronized Temperature)
Recirculation
Air Delivery Mode Control
Auto (Automatic Operation)
A/C (Air Conditioning)
On/Off (Power)
Transmission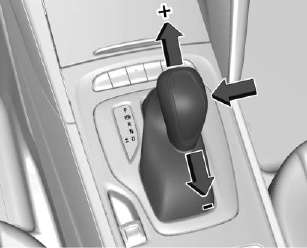 Manual Mode
Driver Shift Control (DSC) allows you to shift an automatic transmission similar to a manual transmission. To use the DSC feature:
1. Move the shift lever to the left from D (Drive) into the side gate marked with (+) and (-).
2. Press the shift lever forward to upshift or rearward to downshift.
READ NEXT: