Buick Regal: Head-Up Display (HUD)
Warning: If the HUD image is too bright or too high in your field of view, it may take you more time to see things you need to see when it is dark outside. Be sure to keep the HUD image dim and placed low in your field of view.
If equipped with HUD, some information concerning the operation of the vehicle is projected onto the windshield. The information is projected through the HUD lens on the driver side of the instrument panel and focused out toward the front of the vehicle.
Caution: If you try to use the HUD image as a parking aid, you may misjudge the distance and damage your vehicle. Do not use the HUD image as a parking aid.
The HUD information can be displayed in various languages. The speedometer reading and other numerical values can be displayed in either English or metric units.
The language selection is changed through settings and the units of measurement is changed through the instrument cluster.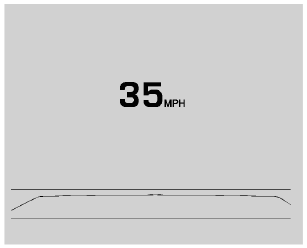 HUD Display on the Vehicle Windshield
The HUD may display some of the following vehicle information and vehicle messages or alerts:
Speed
Tachometer
Audio
Phone
Navigation
Collision Alert
Adaptive Cruise Control and Set Speed
Lane Departure/Lane Keep Assist
Low Fuel
Some vehicle messages or alerts displayed in the HUD may be cleared by using the steering wheel controls.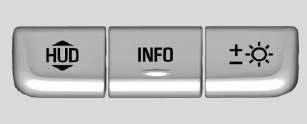 The HUD control is to the left of the steering wheel.
To adjust the HUD image:
1. Adjust the driver seat to a comfortable position.
2. Start the engine.
3. Use the following settings to adjust the HUD.

: Press down or lift up to center the HUD image. The HUD image can only be adjusted up and down, not side to side.

: Press to select the display view. Each press will change the display view.

: Lift up and hold to brighten the display. Press down and hold to dim the display. Hold down to turn the display off.
The HUD image will automatically dim and brighten to compensate for outside lighting. The HUD brightness control can also be adjusted as needed.
The HUD image can temporarily light up depending on the angle and position of sunlight on the HUD display. This is normal.
Polarized sunglasses could make the HUD image harder to see.
Head-Up Display (HUD) Rotation Option
This feature allows for adjusting the angle of the HUD image.
In the Driver Information Center (DIC) Options menu, press

or

to get to the HUD rotation main view. From the main view, Press

to enter adjust mode.
Press

or

to adjust the HUD rotation. Select

to save the setting and exit. Press

or

to cancel the changes and exit.
READ NEXT: