Buick Regal: Instrument Panel Fuse Block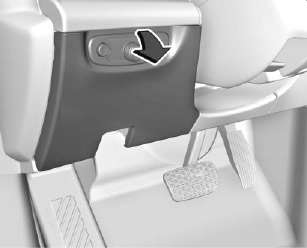 The instrument panel fuse block is in the instrument panel, on the driver side of the vehicle. To access the fuses, press in on the sides of the cover and pull to release it from the instrument panel.
Pull the panel toward you to release it from the hinges.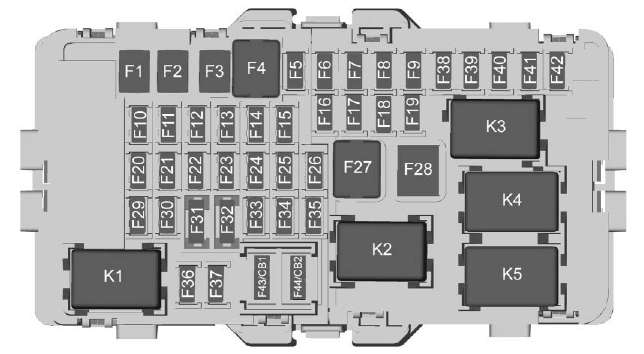 The vehicle may not be equipped with all of the fuses, relays, and features shown.
Fuses
F1. Left window
F2. Right window
F3. -
F4. HVAC blower
F5. Battery 2
F6. Electric steering column
F7. -
F8. Battery 3
F9. Engine control module/Battery
F10. Body control module 2 On/Off
F11. -
F12. -
F13. -
F14. -
F15. Transmission control module On/Off
F16. Amplifier
F17. -
F18. Battery 7
F19. -
F20. Battery 1
F21. Battery 4
F22. Battery 6
F23. Electric steering column lock
F24. Airbag sensing diagnostic module/ Passenger sensing module
F25. Diagnostic link
F26. -
F27. AC DC inverter
F28. -
F29. Body control module 8
F30. Overhead console
F31. Steering wheel control
F32. -
F33. HVAC
F34. Center gateway module
F35. Integrated chassis control module
F36. Charger
F37. Auxiliary power outlet
F38. OnStar
F39. Monitor
F40. Object detection
F41. Body control module 1 On/Off
F42. Radio
F43. Rear accessory power outlet
F44. Front accessory power outlet
Relays
K1. -
K2. Retained accessory power
K3. -
K4. -
K5. Logistics
READ NEXT: