Buick Regal: Wireless Charging
The vehicle may have a wireless charging pocket outside the armrest of the center console. The system operates at 145 kHz and wirelessly charges one Qi compatible smartphone. The power output of the system is capable of charging at a rate up to 1 amp (5W), as requested by the compatible smartphone. To check for smartphone compatibility:
In the U.S.,
In Canada,
Or, see your dealer for details.
Warning: Wireless charging can affect the operation of an implanted pacemaker or other medical devices. If you have one, it is recommended to consult with your doctor before using the wireless charging system.
The vehicle must be on or in ACC/ ACCESSORY, or Retained Accessory Power (RAP) must be active. The wireless charging feature may not correctly indicate charging when the vehicle is in RAP.
See Retained Accessory Power (RAP) 0 191.
The operating temperature is -20 ВєC (-4 ВєF) to 60 ВєC (140 ВєF) for the charging system and 0 ВєC (32 ВєF) to 35 ВєC (95 ВєF) for the compatible smartphone.
Warning: Remove all objects from the charging pad before charging your compatible smartphone.
Objects, such as coins, keys, rings, paper clips, or cards, between the smartphone and charging pad will become very hot. On the rare occasion that the charging system does not detect an object, and the object gets wedged between the smartphone and charger, remove the smartphone and allow the object to cool before removing it from the charging pad, to prevent burns.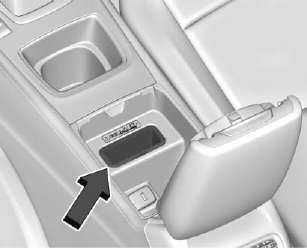 To charge a compatible smartphone:
1. Remove all objects from the charging pocket. The system may not charge if there are any objects between the smartphone and the charging pocket.
2. With the smartphone screen facing the rear of the vehicle, slowly insert the smartphone into the charging pocket until

appears on the

on the infotainment display. This indicates that the smartphone is properly positioned and charging. If a smartphone is inserted into the pocket and

does not display, remove the smartphone from the pocket, turn it 180 degrees, and wait three seconds before inserting the smartphone into the pocket again.
READ NEXT: