Buick Regal: Automatic Headlamp System
When the exterior lamp control is set to AUTO and it is dark enough outside, the headlamps come on automatically.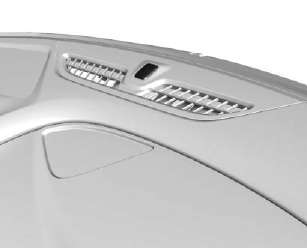 There is a light sensor on top of the instrument panel. Do not cover the sensor; otherwise the headlamps will come on when they are not needed.
The system may also turn on the headlamps when driving through a parking garage or tunnel.
When it is bright enough outside, the headlamps will turn off or may change to Daytime Running Lamps (DRL).
The automatic headlamp system turns off when the exterior lamp control is turned to

or the ignition is off.
Adaptive Forward Lighting (AFL)
If equipped, the AFL pivots the headlamps horizontally to provide greater road illumination while turning. To enable AFL, set the exterior lamp control to the AUTO position. Moving the switch out of the AUTO position deactivates the system. AFL operates when the vehicle speed is greater than 3 km/h (2 mph). AFL does not operate when the transmission is in R (Reverse). AFL is not immediately operable after starting the vehicle; driving a short distance is required to calibrate the AFL.
LED Headlamp System
This system automatically controls the LED headlamps light intensity and distribution based on the lighting condition, road type, and driving situation. The vehicle adapts the headlamps automatically to enable optimal lighting while driving.
The Intelligent Light Distribution feature can be enabled or disabled.
The following lighting functions are available when the exterior lamp control is in the AUTO or

position.
Curve Lighting
Certain LEDs turn on automatically to improve lighting in curves. This is based on the steering wheel position and vehicle speeds from 40 km/h (25 mph) to 70 km/h (43 mph).
Corner Lighting
If equipped with cornering lamps, certain LEDs automatically come on when all of the following occur:
The turn signals are activated or the steering wheel is at a calibrated angle.
The vehicle is traveling up to a speed of 40 km/h (25 mph).
READ NEXT: