Buick Regal: Windshield Wiper/Washer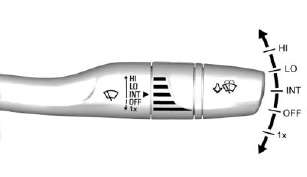 With the ignition on or in ACC/ ACCESSORY, move the windshield wiper lever to select the wiper speed.
HI : Use for fast wipes.
LO : Use for slow wipes.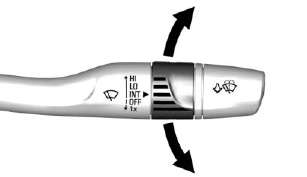 INT : Use for intermittent wipes. To adjust wipe frequency, turn the band up for more frequent wipes or down for less frequent wipes.
OFF : Use to turn the wipers off.
1x : For a single wipe, briefly move the wiper lever down. For several wipes, hold the wiper lever down.

: Pull the windshield wiper lever toward you to spray windshield washer fluid and activate the wipers.
Rear Window Wiper/Washer
If equipped, turn the end of the windshield wiper lever to operate the rear window wiper/washer.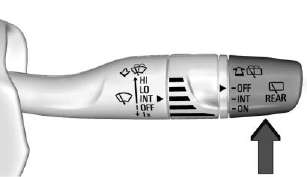 OFF : Turns the system off.
INT : Intermittent wipes.
ON : Slow wipes.

: Push the windshield wiper lever forward to spray washer fluid on the rear window. The lever automatically returns to its original position when released.
READ NEXT: